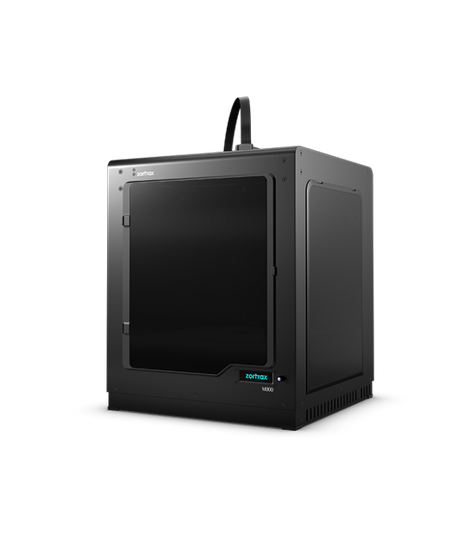  
ZORTRAX M300
Política de seguridad: pasarela de pago segura SSL

Política de envío: envío 24h-48h

Política de devolución: 15 días
Zortrax M300 – Large volume professional 3D printer
Buy this M300 3D printer and get a wonderful machine in Zortrax quality. This large brother of the Zortrax M200 has the same powerful plug&play 3D printing abilities. This device is made very solid, easy to use and offers you an excellent additive manufacturing experience. The M300 comes out of the box plug&play. Operating this device is easy due to its user-friendly interface and slicing software – Z-Suite. Frequent free updates improve Z-Suite functionality.
Main features of Zortrax M300:
High precision (up to 0,09mm/layer)
Works great without break downs
Perforated huge build bed (300 x 300 x 300 mm)
High manufacturing speed (up to 150 mm/seconde)
Compatible for use of third party filaments
Plug&play 3D printer
Easy to use software (Z-Suite)
Plug & create
No need to execute a difficult calibration process of the 3D printer or software. Put this 3D printer on your table, upload the model to your slicer and start 3D printing within 2-5 Minutes.
Extruder
Appropriately selected heating and cooling points in the extruder of the Zortrax M300 solve the frequent problem of inability to release material by the extruder. It can be caused by a change in the physical properties of material associated with temperature.
Build platform
The use of a two-part platform allows an easy removal of the build platform after the 3D printing process is finished. Thanks to this feature, the finished 3D model can be easily removed without causing any calibration issues or damaging of the component. Perforations on the platform allows to 3D print filament based on ABS which tend to warp. They prevent the model from peeling off during additive manufacturing process. If more adhesion is needed you can use an adhesive.
High temperature additive manufacturing
Additionally, an extra layer of raft is used as a special base for the object. This is very important for 3D printing large models. The build platform is heated to the correct temperature for each type of filament. With the new Z-Suite slicer software you can set the printing bed temperature for third-party filaments on your own. Furthermore, the Zortrax M300 allows a wide range of temperatures (from 20° C to 110° C) to 3D print using many kinds of materials.
Auto-calibration
The Zotrax M300 is formfitting with an innovative calibration system which enures that the platform is leveled correctly every time. There are five calibrating points located on the platform itself which calculate its exact position. The system can determine on which level the calibrating points should be located. In the case of a slight tilt the extruder adapts to the position of the platform while its putting on the first layers of the model. We recommend you to level the Zortrax M300 after transportation. Simply follow the instructions on the screen and your build platform will be leveled in under 5 minutes. Until you move the 3D printer no further calibration will be needed.
X and Y axis system
A system of dual X and Y axises leads the extruder with high precision. Stability and quality of 3D printing is greatly improved by using 8 smooth rods. The build platform moves very even and without vibration. This is a key factor for good-quality 3D prints.
Single Extruder Support
Creating support structure is easy thanks to Single Extruder Support system (SES). This feature allows to 3D print support structure for complex models without the need of dual extruder and additional material. With the Zortrax M300 3D printed support structure is easy to remove and efficient. The extruder is optimized to use only the exact amount of filament needed to support the model.
Compatible materials
We recommend to 3D print using Z-Filaments with features dedicated for Zortrax® M300. When you manufacture these filaments, nice results are guaranteed. If you like to experiment with materials we suggest you use PrimaVALUE, PrimaSELECT and EasyPrint filaments for good-value and safe 3D printing.
Option for an enclosed building chamber
If you are working with ABS or filaments which tend to warp we advise you to upgrade your Zortrax M300 with side covers and covering. This keeps your building chamber warm and minimizes warping.
No hay ninguna opinión por el momento.
Productos relacionados
16 otros productos de la misma categoría: