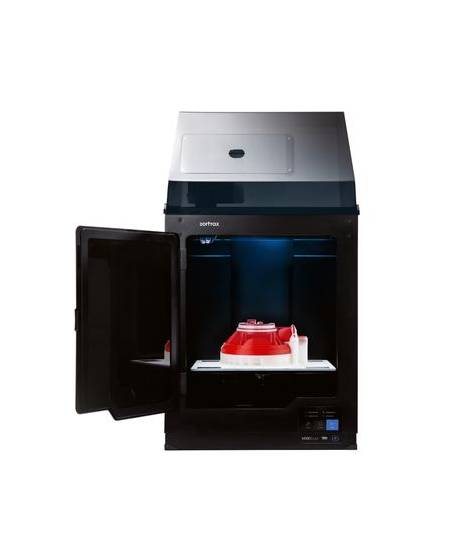  
ZORTRAX M300 DUAL + COVER
Política de seguridad: pasarela de pago segura SSL

Política de envío: envío 24h-48h

Política de devolución: 15 días
Zortrax M300 Dual HEPA COVER – Industrial 3D printer on your desktop
Are you a professional and have high demands on the quality and performance of your 3D printer? The Zortrax M300 Dual with HEPA cover is just right for you. Experience industrial 3D printing quality at an affordable price on your desktop. Its dual extruder enables 3D printing with support material.
Key features of the Zortrax M300 Dual HEPA Cover:
Cover & HEPA filter ensures environmental friendliness & safety
Instead of 3D printing support structure with own material, use water soluble support material
Its large installation space of 265x265x300 mm is suitable for the majority of applications
Wi-Fi, USB and Ethernet deliver impressive connectivity
Capacitor protection in case of power failure allows you to continue your 3D printing
Auto-calibration of the building platform by the integrated capacitive distance sensor
Additional features of the Zortrax M300 Dual with HEPA coverage:
Works with Zortrax LPD Plus Dual Extrusion Technology
3D print with different building platforms (perforated, glass and others)
Use one or both extruders and process filament & support material
Suitable for third-party filaments
Buil-in camera for remote monitoring
Large installation space for 3D printing of high-performance components
Create large 3D prints easily and in high quality. This is made possible by the 265x265x300 mm installation space. Make your biggest ideas come true with the Zortrax M300 Dual with HEPA Filter & Cover.
LPD Plus technology with 2 extruders
The LPD Plus technology works with two nozzles and extruders. 3D print complex parts and objects with undercuts without a laboriously removable support structure. Process your desired filament on one extruder and water-soluble support material on the other.
Intelligent backup system in case of power failure
Your Zortrax M300 Dual with HEPA filter and cover is intelligent. It automatically detects a power failure. Its control software interrupts your 3D printing and stores the last position of the extruder. Once power is restored, the Zortrax M300 Dual HEPA Cover resumes 3D printing at the same location. So it minimizes aborted 3D prints and wasted filament.
Capacitive Sensor
The built-in capacitive sensor measures the distance between extruder and construction platform. 3D print now always at the optimum distance, regardless of the construction platform used. Calibration of the M300 Dual HEPA Cover is simple and automated.
Advanced filament control
The Zortrax M300 Dual with HEPA Cover automatically stops 3D printing when the filament feeder is blocked, filament is leaking out of the extruder, or it is clogged.
3D print filament of your favorite manufacturer
The Zortrax M300 Dual with HEPA cover is material open. 3D print with it your favorite filament from your manufacturer of trust.
No hay ninguna opinión por el momento.
Productos relacionados
16 otros productos de la misma categoría: